Repair, tune-up and storage
Repair and Tune-up
Repair by appointment only. Click here to make an appointment.
Here are the rates applied by Vélo Urbain for adjustments, the hourly rate.
Hourly rate
The hourly rate for Vélo Urbain is $ 45.00. For any repair, a detailed estimate will be provided to you before carrying out the mechanical work.
Storage
Vélo Urbain offers a bicycle storage service in Montreal during the winter season.
Bicycle enthusiasts that we are, we will take care of your mount as if it were our own! Our Montreal bike storage service is the perfect solution for you if your space is limited and you have nowhere to store your bike in the winter.
You can store your bike in a heated , dry and secure place, which allows you to save space in the house during the winter season and prevent your bike from being damaged outside due to humidity, rain or snow.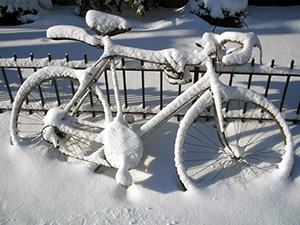 Safety for your bike
Our premises are protected by an alarm system connected to a call center 24 hours a day as well as by surveillance cameras with backup of images for 30 days </ b >. In addition, for maximum protection, Vélo Urbain has an insurance policy . There is therefore no risk of theft or damage to your equipment.
How does it work?
You can drop off your bike from November 1st until early April for $ 50.00 + tx.
You can also take the opportunity to make a tune-up during this storage period for $ 85.00 + tx. You'll get a bike that's ready for the season, saving you time and money.
If you decide to call on the tune-up service in addition to simple storage, you will find your bike like new when the beautiful season returns!
We strongly encourage our customers to choose the formula with tune-up, as it is important to check that the bike is in good condition before starting the cycling season, for safety reasons, but also for a question of comfort and pleasure to walk with a frame in good condition.
Reserve your place online now and drop off your bike no later than December 18, 2021.